Vacuum pipe lifting manipulator
Ceramic clay pipe:
Vacuum pipe lifting manipulator
4 previously cut sections of DN 160 chimney flue pipe sections are lifted via vacuum power. Note below that we also take into account that the set ring is also lifted with a specially designed pinch arm mechanism which is activated by the operator via push buttons for open and close. The manipulator centralises its lifting point automatically and is extremely light to operate. Further push button functions active suction and suction release, lift and lower and naturally emergency stop. Ergonomic and easy to operate, we guarantee absolutely no damage to inner or outer pipe surfaces.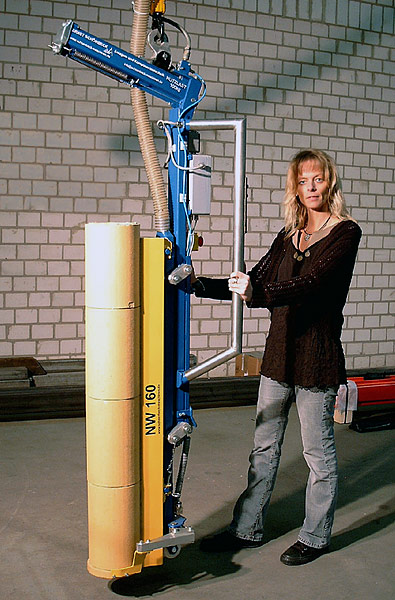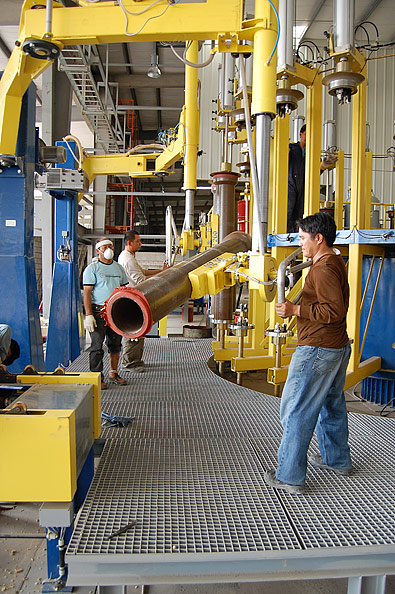 Ceramic clay pipe:
Vacuum pipe lifting manipulator
Pipe is collected from a polyurethane processing assembly (socket/ spigot sealing) and transported via a pneumatically assisted vacuum pipe lifting manipulator too a conveyor band. The ergonomic and easy to operate vacuum pipe manipulator deletes the requirement to lift pipe by hand. The Schoenbeck manipulators can manoeuvre pipe in just about any position you require. Complete rotation (clockwise or anticlockwise), push button functions for lift/ elevate or lower, suction on, suction release and emergency stop.