The EliTE vacuum pipe lifter® is a fully self contained state-of-the-art vacuum pipe lifting attachment specially designed for the rigorous global pipeline construction sites of today.
Manufactured according to the highest European and ASME standards the EliTE vacuum pipe lifter® delivers almost 90% vacuum (negative pressure) to the pipe surface at a speed of 1,5 seconds. A 280Ltr vacuum tank/ reservoir releases almost 0,9kg/cm² suction power to the pipe surface giving an extremely high and dynamic suction power. Dust, rain and other natural elements will have no negative effect to the performance of the machine or suction. The EliTE vacuum pipe lifter® can operate in ambient temperatures of -25°C to plus 55°C with high humidity rates of 90%. The unit can be attached to any type crane (1 hook or 2), excavators, side booms or virtually any other equipment type carrier. Warning indicators, alarms, sirens, vacuum pressure gauges are naturally all standard components indicating to the operator at all times the current and safe performance status of the equipment.
When attached to an excavator the EliTE vacuum pipe lifter® is the perfect pipe handling tool for stringing, stacking, truck, rail car or vessel on and off loading.
The 360° hydraulic rotor and mechanical oscillation pressure brake (no rubber dampers) reduces rocking/ swinging of the pipe during the lifting and deployment procedure. The power for the hydraulic rotator is taken from the excavators auxiliary lines for bucket curl circuit.
Contact us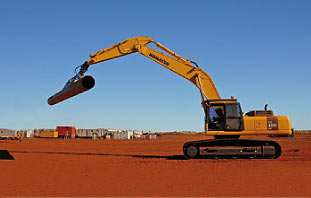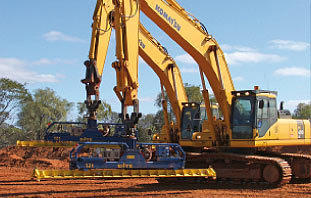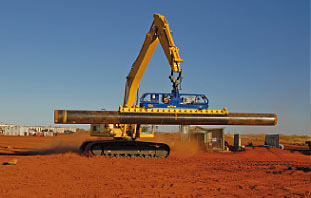 Available standard lifting capacities


EliTE vacuum pipe lifter® 8TD (8000kg/17500lbs), EliTE vacuum pipe lifter® 12TD (12000kg/ 26500lbs), EliTE vacuum pipe lifter® 16TD (16000kg/ 35000lbs)

Available suction pad sizes


Starting as low as 5.5" OD (139,7mm) to 88" OD (2235mm) and larger

Multi excavator yoke


Manufactured to fit almost any available size excavator on the market (Optional)


Standard excavator yoke


Manufactured to fit your dedicated excavator only (Optional)

Crane lifting eye (crane application)


Manufactured as standard scope of delivery
Standard suction pad


Manufactured to fit your dedicated OD pipe

Variable suction pad


Manufactured to fit a range of OD pipes

On site training program


We supply a standardised 3 – 5 day onsite training programme covering
– Introduction
– Installation
– Safety
– Handling
– Servicing and Maintenance
– Fault finding and rectifying
– Completed with a certificate of competence for all participants
Download brochure